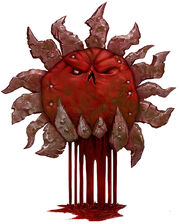 Bloody Suns
Edit
Leadership: Small Council
Total Members: 758
Legend So Far...
Edit
Arrival on Bavak
Found a Harvester's Bane and Water Tree
Built a Lodge
Darkovis Discovered, Azure Hoof and Bavakian Trout
Built a Castle, destroying a mountain in process.
Recruited Blue, and recovered 600,000 Gold.
Darkovis Discovered Kokiri Forest
Mag Discovered Gerudo Desert
Mag Discovered/Destroyed Mt. Fuji
Mag Discovered/Created Nagasaki Crater
Guilded Outpost Cyrodil, Lorded by Rockus, Heired by John.
Recruited 20 Members
Village of unbrandeds moved outside Cyrodil, named Randstad.
Added a Mage tower to a Tower of Cyrodil, Recruited 25 Blood Mages.
Mag Discovered the Pacific Ocean.
Gained Allegiance of RipSaw Orcs, Rewarded all of their territory and remaining Guild Members.
Recruited 120 Members.
Recruited 80 Members.
Recruited 501 Members